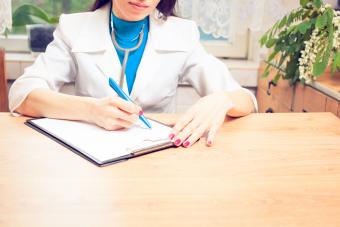 It is standard practice to require a doctor's excuse when employees miss work or students are absent from school due to medical appointments. The printable fill-in forms below are free for you to download and use. Click the image of the one that meets your needs, then save it to your computer and print. If you need assistance, see this guide to printables.
Printable Excuse Form for a Doctor's Office
Medical practices typically utilize a standard doctor's excuse form for all patients. These forms have a spot for the person who fills out the form to specify if it is applicable for absences from school, work (or both). Use this form if you're looking for a document you can use for the medical practice where you work.
School-Specific Medical Excuse Form
Schools sometimes require students to have their doctor complete a form specific to their institution rather than use the medical practice's standard form. Use this if you are looking for a form the school where you work can provide to students to be filled out by their doctor when they miss school for medical reasons.
Printing the Forms
Once you have downloaded the form you want to use, you will need to save and print. You can either access the File menu for the save and print commands or click the disc icon on the toolbar to save and the printer icon to print.
Both forms will print in landscape orientation on a standard 8-1/2 X 11 piece of paper. There are two forms on each page, so you will want to cut the page before use.
Keep a Copy
It is important for doctor's offices to keep copies of all medical excuse forms provided to patients, whether the information is filled in on a form provided by the patient's school or the standard form used at the practice.
Medical Excuse Policies
Employers and schools have varying policies regarding when doctor's excuse forms are required. Some require a written note for even one absence, late arrival or early departure. Others will require this type of documentation only after several consecutive absences or a certain number of absences during a given time frame.