Learning the letters and sounds of the alphabet is fun when you use these adorable, free printable alphabet coloring pages. Practice one letter at a time to learn correct alphabetical order or reinforce letter sounds through art.
Entire Alphabet
If you prefer to print off all the letters at once for pre-planning purposes or to make an alphabet coloring book, click on the image of all 26 letters. Download and print the entire document and you'll have coloring pages for the whole alphabet at once. If you have any difficulty, use this helpful guide which offers tips and tricks for downloading printables.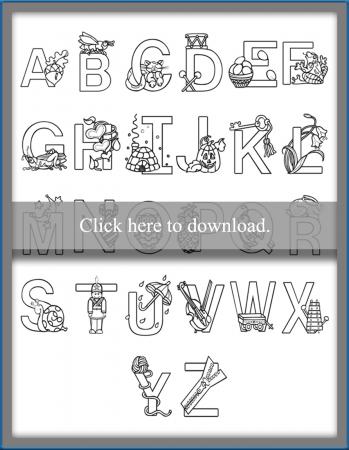 Individual Letters
Preschool and kindergarten kids begin learning their reading and writing curriculum one letter at a time. Use one letter per day or theme each week of the year around one letter in your lesson plans. Reinforce the look and sound of each letter at home when you use the sheets as a quiet-time art activity. Each letter is accompanied by an item starting with that letter sound to help kids better understand the concept. Click on the image for the letter you want to use and then download and print.
Fun With Learning
When kids color these exciting alphabet pages, they learn motor skills and letter concepts, and they begin learning about words and letter sounds. Ask kids to use realistic colors or give them free reign to create cooky pictures with these creative activities.