Color-By-Number Coloring Pages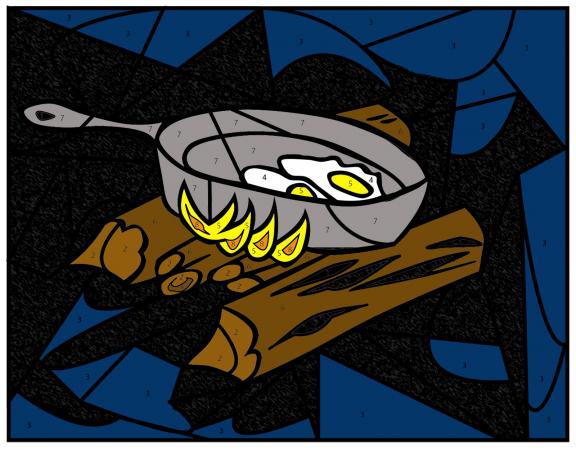 Color-by-number activities challenge kids of all ages to use number and color identification with artistic flair to create a complete image out of a puzzle-like picture. Printable coloring sheets help teach skills, reinforce concepts, and increase understanding of art techniques.
Nature-Inspired Worksheets
These free, printable color-by-number sheets feature fun elements of nature in complex art designs. To start, choose your favorite image by clicking on the picture below. Click the download icon to save it on your computer or the printer icon to make a copy for immediate use. If you run into problems with the printables, this reference guide will help.
Campfire Page
If you love camping and cooking, this campfire-themed image is perfect. Featuring eight colors, the campfire page uses small, medium and large spaces to create an intricate image suitable for older kids.
Elephant Page
If animals are more your thing, try out the elephant worksheet. Perfect for younger children, this coloring page uses six colors and large, open spaces. Match the color to the number and see if you can find the elephant.
Horse Page
Six colors are all you need to illustrate a beautiful horse picture. The smaller sections in this color-by-number page provide a challenge for intermediate artists.
Color-by-Number Tips
Color-by-number worksheets are great for preschool and elementary students in school, at home or in youth groups. Use the provided color and number key to complete the standard picture or:
Choose colors and assign a number to each before coloring.
Look for other possible images made from coloring several blank spaces. Color in only the areas that make this new image.
Older kids and teens can create a puzzle when they cut out the pieces after coloring.
Use the Campfire page as a Dr. Seuss companion activity when you color the eggs green.
Create Indian Elephant Art when you pair a pattern with each number instead of a solid color. For example, 1 = thin stripes in white and blue.
Add sticker details to the horse picture like bows in the mane or a unicorn horn.
Explore Art With Math
Kids coloring pages provide hours of fun and creativity for preschool and elementary children. Challenge their skill-set with a color-by-number page incorporating art and math concepts.