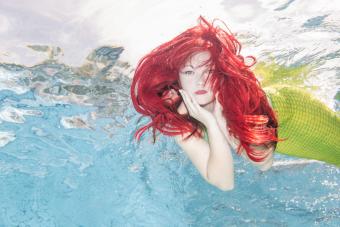 Artists looking for majestic creatures to decorate will love these free mermaid coloring sheets. Take your creativity under the sea and design a beautiful mermaid by clicking on the image of your choice to download and print a hard copy. Use this troubleshooting guide if you have any problems downloading the coloring pages.
Happy Mermaid
If you love classic mermaids like Princess Ariel from Disney's The Little Mermaid, you'll love this delightful girl. With long, flowing hair and a shell bikini top, this standard mermaid can take on any color scheme you choose.
Edgy Mermaid
If you like a little less cookie-cutter style in your coloring pages, this edgy mermaid is for you. She's got a short, spiky hairdo and a leopard-spotted tail waiting for you to decorate.
Creative Ideas for Your Mermaid Art
These beautiful mermaids are fun to color with the bright hues found in the world's oceans, but they can be used in other ways as well. From fun additions to take your artwork to a new level to handy uses for these fun coloring pages, try out these ideas.
Mermaid Party Decorations
Turn your artwork into decorations for a mermaid-themed birthday party. Cut out the mermaids and adhere to standard gift bags. Let each guest color her own mermaid bag to store party favors.
You as a Mermaid
Create fun fantasy art when you replace each mermaid's face with your face and your friend's faces. Create a mermaid collage of you all together by pasting each updated mermaid onto one canvas. Paint an ocean background around all the pictures, and you've got a unique art piece.
Mermaid Paper Doll
Make a paper doll. Trace and cut out the main part of the tail and shell top from the Happy Mermaid Coloring Sheet. Do this several times. Color each one differently and have fun mixing and matching by attaching the cut-out versions with double-sided tape.
Iridescent Mermaid Art
Instead of coloring your mermaid with crayons or colored pencils, use iridescent markers or paint to give her tail some real shine. If you're feeling extra creative, combine colors to make her tail a real work of art.
Mermaid Sea Scene
After coloring your mermaid, cut her out. Using a piece of dark blue construction paper, make a sea scene for her home. Use blue tissue paper for waves, glitter for sun on the water, and lots of colorful fish to keep her company. Glue the mermaid in last so she can be the centerpiece of your scene. You could also shrink her so she fits onto a beach coloring page.
Mermaid and Princess Coloring Set
Create a great coloring-themed gift by packaging some fun crayons or markers with some printed coloring pages. Print several copies of the mermaid designs as well as some princess coloring pages. They'll be sure to delight any child who loves magic.
Take a Dive Into Coloring
Mermaids are fun to color because they can take on any personality depending on how you decorate them. Immerse yourself in their undersea world and give these cool mermaids some serious personality using your own art supplies and creativity.