Choir days celebrate the hard work and dedication to the art of singing showcased by church choirs. An occasion speech provides a focused way to explain what the event is about and how to help celebrate it.
Keep reading »
Browse Topics in Sample Speeches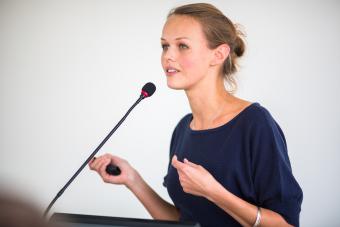 Being asked to write or present a speech can be a big honor, but it can also be a bit daunting. Fortunately, there are plenty of sample speeches you can review for inspiration. When you're looking for pre-written speeches to help you get started putting together a presentation for an upcoming occasion, let LoveToKnow's Printables & Templates channel be the first place you look online!
Free Speech Templates
The expert writers who contribute to this channel have experience creating effective speeches that resound with audiences for all kinds of events. Look here first, before you spend time staring at a blank screen trying to figure out how to find the words for what you want to express. You just might find a template that will work perfectly for your upcoming speech. At the very least, you'll get a lot of great ideas to help you begin.
Examples of what you'll find include:
A wide variety of sample wedding speeches, including options designed to be delivered by the bride, groom, wedding party and family members
Great options for wedding-related toasts, including great sayings for raising glasses at the rehearsal dinner along with maid of honor and best man toasts.
Examples of eulogy speeches delivered in honor of a loved one's passing
Sample speeches for various other special occasions, ranging from baby showers to volunteer appreciation luncheons
These are just a few examples of what you'll find here! From welcome speeches to farewell speeches, we have a full range of templates you can use - all at no cost!
Expert Resource for Sample Presentations
There is no better free online resource for finding a wide variety of speeches available for you to download and edit to suit your needs. Check in frequently, as the expert editorial team is diligently working to expand the site's offerings. You'll find more every time you visit! With so many great templates at your disposal, there is no reason to fret over a speech ever again.