Best Man Wedding Toast Examples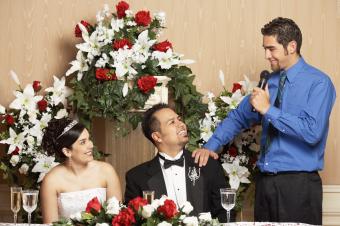 If you're serving as best man in a friend's wedding, your responsibilities will likely include saying a few words to toast the happy couple at the reception. If you're not quite sure what to say, use one of these templates as a guide. The wording may work perfectly as-is, or it may be exactly the inspiration you need to craft an original toast of your own!
Sample Best Man Toasts
To see three sample toasts, click the image below. The document will open as a printable PDF you can save, edit and print. If you need assistance with the document, use the tips in this guide to printables.
Choose the example that most closely matches your sentiments and personalize to reflect your thoughts about the happy occasion. If these options don't fit the bill, you may want to consider one of these jokes for a best man's speech.
Tips for Delivering a Winning Toast
Even though the spotlight will be on you for a few minutes while you're delivering your toast, the day is all about the bride and groom. Follow these key tips to make sure your role is exactly as it should be.
Keep it tasteful. While you've likely shared all kinds of adventures with the groom, this is not the place to talk about anything that shouldn't be said in front of parents, grandparents or the bride.
Focus on the future. It's fine to mention how long you and the groom have known each other and hit on a few highlights of your relationship. However, your emphasis should be on best wishes for the future as your friend enters this next step of the life. Wish him and the bride best wishes for a lifetime of happiness.
Keep it short. Confetti.co.uk indicates the best man's words should take no more than three or four minutes to deliver.
Practice. Be sure to practice your speech before the big day. You want to be comfortable with the words and reduce the extent to which you need to depend on your notes. Practicing will help you maintain good eye contact and a conversational tone.
Enjoy the Honor
Even if the thought of giving a toast in front of everyone at the reception causes you a bit of stress, keep this in mind. Your relationship with the groom is so strong and important, he has invited you to participate in his wedding as best man. It's a gift to have such a strong mutual friendship and having an opportunity to give a toast as best man is an honor.